How To Create Videos With Photos
When you have a lot of photos available, perhaps from a vacation, it might be a good idea to use them to create a video and add music to them. At first, it might seem a complicated operation, not for everyone, but I assure you that by using the right tools you will succeed in your intent in no time at all. All you have to do, therefore, is simply to read the next lines of this article carefully and choose the application you prefer to implement our tips on how to create videos with photos.
How to create a video with photos and music for free online
Don't you like the idea of installing special software to create videos with photos and music for free? Would you prefer to use an online program so that you don't have to weigh down your smartphone or PC? I immediately inform you that it is a feasible operation, as for this purpose there are several alternatives on the Web.
FlexClip
FlexClip is definitely one of the best online tools that allow users to create cute movies from photos. Its interface is really well cared for and offers numerous features.
Go to the official FlexClip website
Create an account
Go to the "Tools" section  and click "Slideshow Maker"
Import the elements to be included in the video
Make any necessary changes
Save and export the project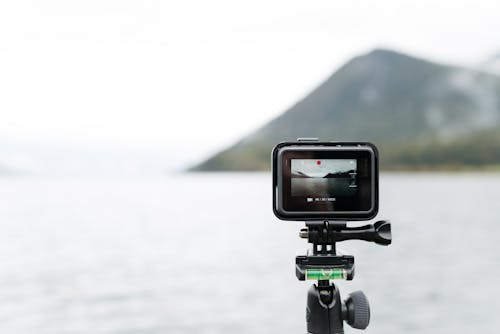 ImageToVideo
ImageToVideo is another great site to use to create a video with photos and music for free. After adding the images of your interest (it is possible to upload in a number equal to or less than 20) you can apply all the necessary changes, also adding music if necessary. To take advantage of ImageToVideo you need to create an account but the service is still free, so it's definitely worth trying.
Other useful sites
In addition to the sites described above, there are others that are equally simple to use and full of features. Their operation is almost identical to those already described, so you only have to go to their official pages and create your video with photos and free music.
Smilebox
Adobe Spark Video
Slide.ly
Clideo
Glitterly
How to create videos with photos and music for free on the smartphone
How convenient is it to be able to edit/create videos on your smartphone in just a few minutes? It certainly is and for this reason, you will find below what we think are the best apps to create movies starting from photos for free.
InShot (Android / iOS)
InShot is definitely one of the best applications available for Android and iOS that can create videos quickly and easily. The application allows you to apply numerous effects to your movie and guarantees a very high degree of customization. InShot also allows you to edit videos by providing the user with countless functions, including cutting/editing videos, adding music and changing the playback speed and adding text. In short, all you have to do is simply select the photos of your interest, add them within the application and create a video that reflects your preferences!
VivaVideo (Android / iOS)
VivaVideo is another great alternative to create videos with music from photos. In fact, it is one of the most used and appreciated applications by users precisely because of the numerous functions it provides. Its use is really simple, thanks also to a simple and well-finished interface. Once you have chosen the images of your interest, all you have to do is import them into the application, add the effects of your interest, select the music and any text to add and that's it! In fact, within a few minutes, you will have created your fantastic video with free photos and music. VivaVideo is available for Android and iOS.
iMovie (iOS)
For those who own an iPhone, it is absolutely recommended to use iMovie, a fantastic application from Apple that allows you to create movies in a few simple steps. Thanks to a very simple and well-finished interface and to the numerous functions integrated within it, iMovie makes the user experience and the creation of movies of all kinds enjoyable. Once inside the application, all you have to do is:
Click on New project
Continue on Movie
Select the photos of your interest and click on Create movie (located at the bottom)
At this, within the next screen, the timeline of the video will appear
To edit the video, click on the timeline and select the operation of your interest (for example Duplicate or Delete)
On the other hand, pressing the gear icon will open further functions, such as adding a filter and adjusting some parameters dedicated to the video graphics
Once you have finished editing, click on Finish, then on the sharing icon at the bottom centrally and export your video
Quik (Android / iOS)
If you are looking for a free, well-made and feature-rich application to create videos, then Quik will definitely be for you. The GoPro home app provides powerful editing tools, empowering users to achieve a fantastic final result. In particular, with Quik, you can add photos and create a movie, add music and effects and select filters. After creating the video something doesn't convince you? No problem, as the application also allows you to easily edit clips. Quik is available for Android and iOS
How to create a video with photos and music for free on PC
Do you prefer to work from your PC, perhaps with a larger screen? No problem, as there are some programs that will allow you to create videos with photos and music for free.
Wondershare Filmora (Windows / macOS)
Wondershare Filmora is one of the best software to create / edit videos for free. In fact, although the program is paid, the company also offers a free version to test its features. Filmora allows you to add photos and music to the clip, adjust the playback speed of the video, apply special effects and transitions between one photo and another, and much more. Thanks, then, to the clean and well-finished interface, it puts the user at ease, who can create a video in a few simple steps. In addition, Filmora offers many options for exporting the video, to meet the needs of those who use it. The software is available, free of charge, for Windows and macOS.
iMovie (macOS)
Do you own an Apple computer? If so, you should definitely try iMovie, the Apple software (seen a little while ago also with regard to smartphones). It is considered by many to be one of the programs to create free videos, given its simple, well-finished and feature-rich interface. Thanks to all the features proposed,  iMovie allows you to easily edit videos, apply special effects and much more with a few simple clicks. In case you can't find the software inside your mac, all you have to do is download it for free from the App Store.
Doubts or problems? We help you
After the above tips, if you have anything want to discuss with us, comment below.
Disclaimer: Some of the links in this article are affiliate links that can give you a small commission at no cost. However, not all the links here are affiliate links. You can read our full affiliate disclosure in our privacy policy.
335 total views, 1 views today