OPPO A54 5G with 2.1 Gbps1
With technology increasing constantly, staying connected with the world of the internet is getting easier and easier. The latest Android phones have the best 5G internet support, which can help you stay connected to the internet no matter where you are. If you are looking for an OPPO smartphone, which can give you the power of lightning-fast 5G internet, then you have come to the right place. We are going to review the best OPPO phone with killer 5G and great downloading speed.
OPPO A54 5G
OPPO A54 5G is most definitely among the best Android phones OPPO has to offer. Let us get the technical specs out of the way before we dive into the 5G speed of this phone. It runs on the Qualcomm SM4350 chipset. There is also an Adreno 619 GPU, which lets you perform your gaming and other high-res demanding tasks, with ease and in a carefree manner. You get the memory of 4GB RAM and storage space of 64GB. A54 5G gives you the smooth operating system of ColorOS based on Android 11, to perform all your operations.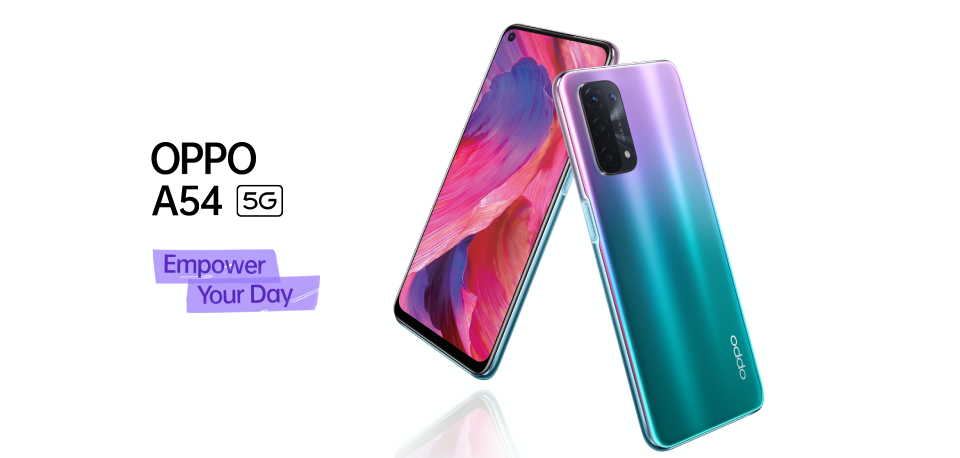 Lightning Fast 5G
With the Qualcomm 5G SoC chip, you get the power to take on the world. When this chip combines with the 4GB Ram and 64GB storage space, you get the fastest 5G internet surfing, you have ever experienced. The connection is pretty strong, and it keeps you connected. It works really well when you are making video calls or attending an online class or meeting. The clarity in voice and picture will surely leave you dazed and amazed.
Download and Upload Speed
The one thing which is an indicator of good internet speed is the download speed. The faster your download or upload speed is, the more productive you can stay and get the most out of your internet experience. With this phone, the downloading speed can reach up to 2.1Gbps which is quite remarkable. You can download a whole HD movie during your lunch break and get back to work again. The maximum upload speed can reach up to 245 Mbps. Using your social media apps will feel like a cool breeze on a hot summer day.
Battery
The battery of the phone can affect the overall experience. A long-life battery means you can enjoy your fun for a longer period of time. This OPPO phone is equipped with a 5000mAh mighty battery, which can give you all day of usage with just a single charge. It can give you up to 13 hours of video streaming and almost 27 hours of call time, with a 40 hours standby. This is not all, it also has a smart power saver mode, which can get you the most out of your battery. When you turn on this mode, it can give you up to 1.3 hours of using WhatsApp with only a 5% battery.
Display
Now let us talk a little about the display of this phone as well. It is equipped with a 6.5 inches display, which can give you a resolution of 2400×1080 pixels. It also has a refresh rate of 90Hz. With this high refresh rate, you can enjoy the gaming and streaming experience in a silky smooth manner. The colours you see on the screen are sharp and vivid, whereas the overall picture quality leaves you mesmerized every single time.
Camera
OPPO A54 5G has a 48MP AI quad camera. It will certainly take your photography skills to the next level. You can take clear pictures which are extremely detailed. There is also a 16MP front camera for your selfies. It has great modes and features for all you mobile phone photographers out there. With AI scene enhancement you can get the most out of your picture. It manages the colours and overall tone of the picture to give your great results. Ai Beautification can make your already beautiful selfies more beautiful. It brightens the image and manages the colour tone, without even compromising the quality.
Slim and Stylish
In addition to being powerful and performance-oriented, this phone is quite stylish as well. It has a slim body of just 8.4mm. This slim body can fit perfectly on the palm of your hand and inside your pocket. It has lightweight of just 190g, which makes it easy to hold and even easier to carry around. The glossy looks of the back with bold colours, give it a simple yet classy appearance. If you are a fan of stylish looking phones, then this is a must-have for you. In the department of looks, it gets a two-thumbs up from our side.
Final Verdict
If you want to get the best 5G internet experience whether you are at home or travelling, then you should definitely go for this phone. But the memory and storage space is not as high as you might have expected. But where this phone lacks, it makes up with the slim and stylish design and a killer camera. So, if you have not made up your mind then what are you waiting for? Makes sure to visit the OPPO store and buy this phone, or choose from a wide collection of OPPO A series Android phones.
Disclaimer: Some of the links in this article are affiliate links that can give you a small commission at no cost. However, not all the links here are affiliate links. You can read our full affiliate disclosure in our privacy policy.